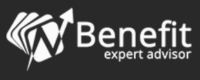 Benefit EA
Brand name
Vsevolod Merzlov

Developer

Rating based on

0 reviews

400 USD

Cost

Martingale, Scalping

Trading strategy

10 000 USD

Recommended minimum

EURJPY, EURUSD, USDJPY, USDCAD, USDCHF, AUDUSD, GBPUSD, CFD, metals

Instruments/markets

Get Widgets
– Benefit EA provides you with 1-month money back guarantee.
– Virtual take-profits are supported.
– The EA can trade across multiple strategies and in different market conditions (in trending and flat markets, on pullbacks during the correction).
– It minimizes your risks to protect against loss of your deposit.
– Temporary disconnections are not a headache for BenefitEA.
– The EA can trade in an aggressive (and highly profitable – up to 200% profits per month) and a quiet (50-70% profits) mode.
– Recommended minimum is $10,000 for standard accounts and $100 for cent accounts.