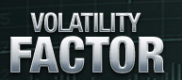 Volatility Factor
Brand name
N/A

Developer

Rating based on

0 reviews

207 USD

Cost

Trend-Following Trading

Trading strategy

100 USD

Recommended minimum

GBPUSD, EURUSD

Instruments/markets

Get Widgets
– It is recommended to run the "Volatility Factor" on M15 time frame.
– It capitalizes on market volatility movements.
– It has in-built spread and price slippage protection.
– It is compatible with NFA and FIFO rules and regulations.
– After purchasing one license for the Expert Advisor you can run it on one real account and an unlimited number of demo accounts.