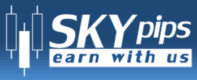 Skypips
Brand name
Punhan Rahimov

Trader

Rating based on

1 reviews

15 days

Trial

SMS, E-mail

Delivery method

$95/month

Cost

Short- and medium-term term range trading

Trading strategy

Yes

Money back

Forex, Commodities, Stock Indices

Instruments/markets

Get Widgets
– The instruments traded are 18 major, minor and exotic currency pairs, commodities (metals and oil) and stock indices (US, Europe, and Asia).
– Signals are generated by traders. The signals include the following information: Time, Currency, Open Price, Take-Profit and Stop-Loss targets.
– The traders use both fundamental (economic calendar) and technical (price movements, chart formations, trend analysis, correlation and regression analyses) analysis before making trading decisions.
– Medium risk level is preferred.
– The accuracy of trades is 90%.
– In case the high level of risk arises in the Forex market, customers will be notified about it via the application. They also receive notifications about lucrative entry points and close order alerts.
– Time frames used to analyze the market are daily and weekly.
– Customer service is provided in English, Russian and Chinese.