Portfolio management and trading strategy copying settings
Go to the "Portfolio" section to manage your portfolio. Here you can see the list of all strategies connected to a certain account and perform the following actions:
Stop – Checking this option will completely stop sending trading signals and copying trades. If there are trades opened on your account, you will have to manage them by yourself.
Pause – If you enable the option, our platform will manage already opened trades, but it will not copy (open) new trades.
Run – The option allows you to run a trading strategy that was stopped by enabling the Delete option.
Modify – The option allows you to change settings of copying a trading strategy.
Delete – The option allows you to stop sending trading signals, disable copying and remove a trading strategy from a portfolio.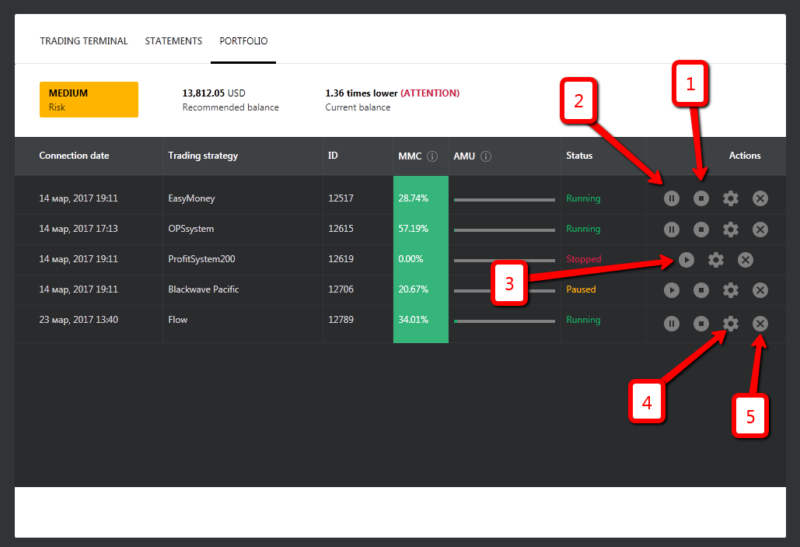 Portfolio settings
We offer three main variants of portfolio customization.
Automatic settings adjustment
Percentage of the total balance
Fixed trade size
Every of these settings is accompanied by an informative tip and additional supplementary options, which are also accompanied by tips.

Portfolio settings assessment indicators
We will provide you with special indicators that assess your portfolio settings. If your portfolio is overloaded or at the high risk, we will inform you about it by enabling a red indicator.
Recommended balance – The indicator shows how many funds are recommended to have on an account balance to maintain a portfolio of selected strategies.
MMC – The indicator shows a portfolio share constituted by every particular strategy. It is advisable to keep its value at the level of up to 100%.
AMU – The indicator shows the leverage (percentage of margin) used for copying every particular strategy on average. It allows you to determine a potential risk. It is advisable to keep its value at the level of up to 7-10%. The risk is considered to be rather high if the value is higher than 15%.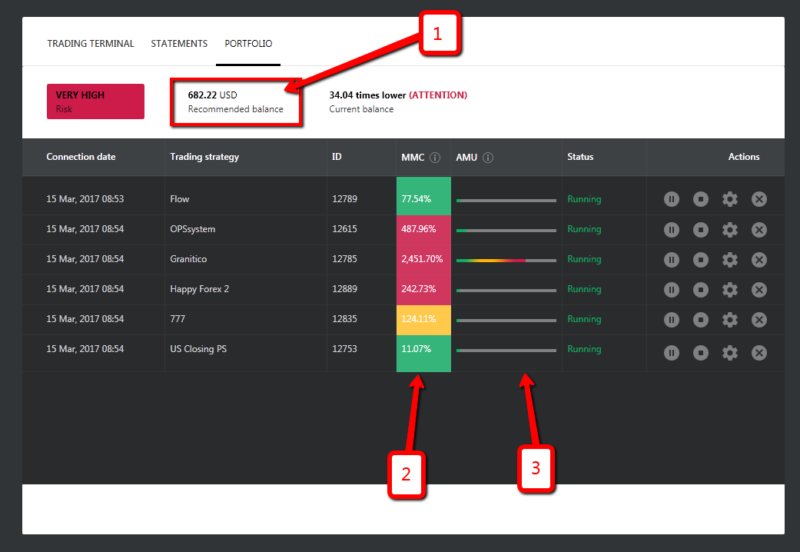 Should you have any questions, ask them in the comments below.